Science Kits are updated at TUSD Science Resource Center 
Meg Gebert (TUSD STEM) and our very own PESI Volunteers have been very busy getting ready for "Back to School" by prepping brand new science kits for TUSD K-5 teachers and students.  The new science kits offer exciting science themes that connect with and enhance the current TUSD science curriculum.  We are so excited about TUSD's supurb new science kit additions!

PESI Volunteers hard at work!
Thank you everyone for supporting SCIENCE!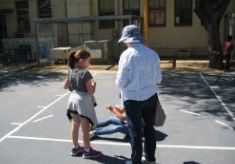 PESI Volunteers help students at Hollinger (TUSD) measure the ambient air temperature in the full sun on concrete.  Students compared the full sun air temperature with the air temperature in the shade of a tree.  This lesson helped students experience the impact trees have on lowering the air temperature in the hot summer months.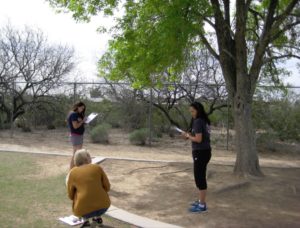 Teachers from the Ecosystems Grant Cohort 1 gather data for the Tree Inventory lesson.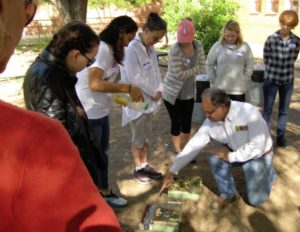 PESI Community Partner,  Joaquin M. from Watershed Management Group, demonstrates the Urban Heat Effect to Cohort 1 teachers on Day 2 of the Ecosystems Grant Workshop.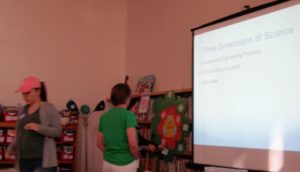 PESI Instructors, Becky Cavazos and Caryl Crowell,  teach the first Cohort of Ecosystems Grant participants about the 3 Dimensions of Science.  

Partners for Equitable Science Instruction (PESI) was awarded a US Forest Service (USFS), Arizona Department of Forestry and Fire Management (AZDFFM) Arizona Community Challenge Grant.  The grant, Trees and Water Conservation in Schoolyard and Community Ecosystems, provides professional development workshops for Tuscon area teachers.  The workshops will help teachers integrate Three Dimensions of Science with Arizona State Science Standards.  Teachers will explore ways to incorporate their current science kits into their daily lesson plans.  Participants will experience two outdoor tree lessons from the DFFM Neighborhood Forests Guide.  They will repeat these lessons in their classrooms with their students.  Students in turn will share their experiences by presenting what they have learned about trees and water conservation to their families, friends and classmates.  Upon completion of the grant requirements, participants will also be eligible for a generous stipend from funds provided by the grant.